Hello friends!  Back today to share a fun Easter card with you!
Before I get to my card, I wanted to let everyone know that this will be my last post with Sparkle N Sprinkle as a design team member.  I have truly enjoyed my time creating with the products and I'm sure I'll be pulling them out to play with on my blog from time to time!  Sometimes we just have to lighten up our "baskets" to make things a little easier to carry.
This little chick dressed in bunny ears just makes me giggle!!  I had so much fun with this cute March release stamp set from Sparkle N Sprinkle called Easter Parade by Jan Mahew.  The other chick has this fancy hat on and is adorable too! 🙂
To start out with, I thought it would be fun to take this basket weave embossing folder to create the background of the card (resembling a basket of course!) and I rounded the top corners of it along with taking some of the new colors of Super Thick embossing powders in the Spring Lilac and Pink Cheeks and sprinkling some over top of this background.  I heat embossed it from underneath so it wouldn't fly all over.  (Remember that you don't need anything to attach it with, just heat set it from underneath!)
I've also used these embossing powders to create the look over the eggs as well!  I stamped out the open image egg from the stamp set and then layered the Spring Lilac, Pink Cheeks and Neon Super Thick Embossing Powders in strips and very carefully heat set it from underneath.  (I did this BEFORE they were fussy cut out.)
I thought that my images needed grounding, so I took a grass border die and cut a strip to place at the bottom of the card front.  I wrapped some yellow ribbon around the basket background and also stamped out the CUTE sentiment from the stamp set and made a banner with it that I've also added a bow, button and twine in the center of.  I've attached all of this to an A2 sized top folding card base.  I flipped up the edges of the banner to give it a bit of dimension.
Here I wanted to point out to you this adorable little chick!  If you look at his belly area, you will see that he looks quite fuzzy!  After I colored him in with my Copics and fussy cut him out with scissors, I took the Nuvo Medium Tip Glue Pen to go over his belly area with and then sprinkled over it with the Canary Flocking.  I always press it into the area for good adhesion and let it dry.  Now you have a fuzzy feeling peep!  I added him to the background and nestled him in the grass border.  I used the SNS Dimensional Glue to adhere the flat images down.
For the eggs, as mentioned above, I melted the powders (carfully trying to keep it contained within the lined stamped egg image) and then fussy cut them out with scissors.  Then I took some foam tape and nestled them among the grass too.  As you can see, I have cracked eggs which accidentally happened when I pushed down on the eggs to stick them.  I actually thought it was sort of cute with the basket theme and funny chick dressed like a bunny, so I cracked them even more and kept it that way!  (It was hard to capture in the photo, but the eggs with the embossing have a pretty shinny sheen over them.  It was sure fun to play with those embossing powders!
I hope you've enjoyed my card today and that you hop on over to check out this fun stamp set along with those super thick EPs!!
Thanks so much for dropping in today!  I enjoy reading each comment and what you have to say!  If you'd like to see a closer look at the details about this card, you can also check out my blog post over on the Sparkle N Sprinkle blog too!
I see that several of you enjoy reading my blog on Wednesdays, so of course I will still be posting filled with lots of fun inspiration to share…so stay tuned!
Here are the Sparkle N Sprinkle products used on my card today: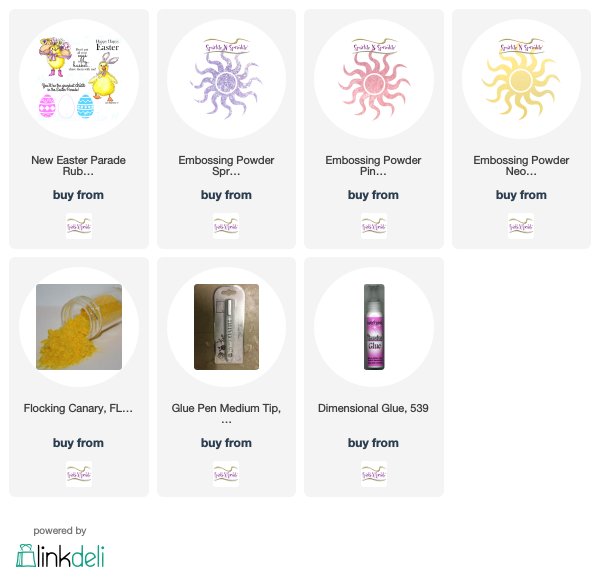 Challenges I'd like to enter this card for: